Profile of Persia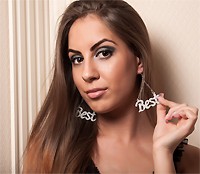 Favoris de 4050 membres
Contest Winner!
I have a OhMiBod sextoy
I will join the Topless Event Monday from 8am to Tuesday 8am
Presentation
My account details
Age : 27 years old
Hair Color : Blond
Eye Color : Green
Height : 166 cm
Weight : 48 kg
Origins : Eastern Europe
My secrets
Persia est pleine de suprises. Des que tu rentre ma chambre, prepare toi pour le meilleur moment de ta vie! Un instant avec moi c' est comme en montagne russe: excitant, joyeux et amusant ;) Si tu es suffisament homme, entre et profite!
My pictures