Profile of Oksana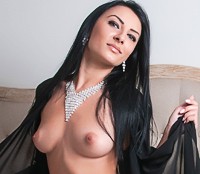 Favoris de 7269 membres
Contest Winner!
I have a Lovense sextoy
I will join the Topless Event Monday from 8am to Tuesday 8am
Presentation
My account details
Age : 27 years old
Hair Color : Dark-haired
Eye Color : Green
Height : 165 cm
Weight : 48 kg
Origins : Eastern Europe
My secrets
Je vais satisfaire ton soif pour plaisir et tous tes besoins. Fais un tour de mon corps sensationnel! Je suis la flamme qui te "brule" jusqu' a l' extase, decouvre la beaute de la vie et l' art de la passion avec une charmante seductrice!
Mes vidéos
brillant
500

Watch video (02:45)
Huiler mon corps nu
800

Watch video (03:21)
My pictures